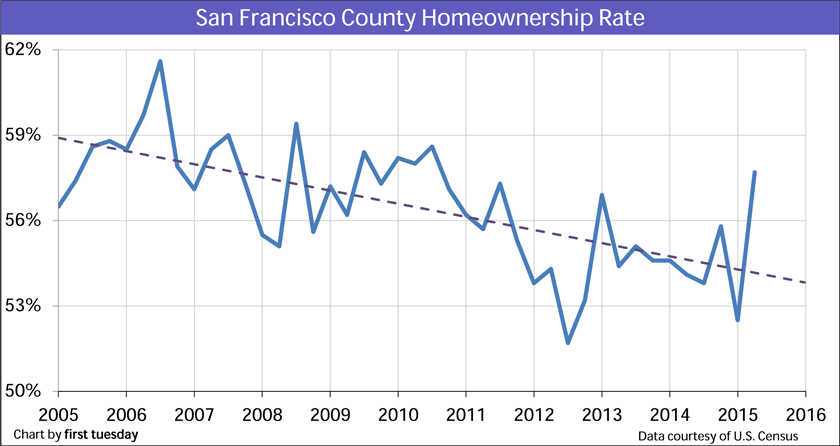 Chart update 08/24/15
| | | | |
| --- | --- | --- | --- |
| | Q2 2015 | Q1 2015 | Q2 2014 |
| San Francisco County homeownership | 57.7% | 52.5% | 54.1% |
The homeownership rate in the Bay Area tends to vary more wildly than other parts of the state. However, the general trend since the Millennium Boom peak has been down. This decline may have recently reversed its trend, at 57.7% in Q2 2015, up by three-and-a-half percentage points from a year earlier, but time will tell. However, the homeownership rate in San Francisco has not suffered quite as much as the rest of the state during this protracted recovery due to the job support delivered by its successful tech industry. All the same, as the homeownership rate in the rest of the state catches up to pre-recession levels in the coming years, don't expect San Francisco to follow. Due to the high cost of housing and the allure of city living, renting is often preferred in San Francisco.
If you're looking for indications of where California's housing market will be in a couple years, take a look at San Francisco County. Home sales volume is nearly level with the pre-Millennium Boom years and the renter turnover rate is fully recovered. Jobs are also fully recovered, due to the presence of the high-paying tech industry in San Francisco.
View charts for current activity and forecasts for San Francisco's housing market. fill out the form below and get this complete report emailed right to your email inbox.